 English - Reading
Intent
The aims of our reading curriculum is for children to become more fluent and effective readers who have a rich vocabulary and enjoy reading for pleasure.
Implementation
Reading is at the core of everything we do, acting as a key life skill that provides access to all aspects of the curriculum. At Glenmere, children learn both the skills of reading using their knowledge of phonics in EYFS and Key Stage 1 (further information can be found in phonics and early reading) and how to become competent readers as well as teaching the skills of comprehension.
Reading is taught within three times a week with whole class reading lessons (VIPERS), Book Talk or 30-minute phonics lessons daily in EYFS and Year 1. Lessons use a variety of different stimulus: picture books, video clips, extracts from books, short texts and pictures.
In order to ensure even coverage of the curriculum, we use VIPERS to cover the content domains in line with the expectations at the end of Key Stages 1 and 2. These are taught explicitly within reading lessons. Teachers reference these during explicit teaching of reading skills.
V – Vocabulary (give/explain meaning of words in context 2a – explain how meaning is enhanced through choice and words and phrases 2g)
I – Inference (make inferences from the text/explain and justify inferences with evidence from the text 2d)
P – Prediction (predict what might happen from detailed stated and implied 2e)
E – Explain (identify/explain how information/narrative content is related and contributes to meaning as a whole 2f)
R – Retrieval (retrieve and record information 2b)
S – Summarise (summarise main ideas 2c)
Alternate weeks from VIPERS, pupils will take part in Book Talk which works on pupils working in small ability based groups and verbalising answers to sentence starters with a particular focus on using evidence to support their answers. Teachers and LSAs will work with different groups over the week, hearing individuals read and completing assessments based upon discussions with pupils.
During these lessons, pupils have the opportunity to discuss the use of language, widen their vocabulary and develop their levels of comprehension. Lessons are based on good quality literature with a focus on developing answers to reading questions. Teachers use the Reading Progression Map to ensure level of questioning and skills are developed year on year.
The explicit teaching of reading takes place either whole class or in small guided groups, depending on the year groups preference based on their cohorts needs.
For individual reading in EYFS and Year 1 we use Rocket Phonics reading books in line with the SSP programme. These are fully decodable and are given once children are confident with all their grapheme phoneme correspodence within the given book band. Pupils in Year 2 may also access these books where phonics still needs to be taught.
Within book bands in Year 2, we continue to use Rising Star with Comet Street Kids up to gold. Pupils in Year 3 will access Rising Stars Galaxy for Lime and Brown book band. This is there to aid the transition from Key Stage 1 to Key Stage 2. Moving into Upper Key Stage 2, there is a wider variety of genres covered, looking at longer novels and more detailed texts, using books from Badger Learning moving pupils up to Black in Year 6
Children at Glenmere are also encouraged to have a 'Reading for Pleasure' book from the wealth of books within the classroom - or alternatively with reluctant readers or pupils in Key Stage 1, a book to read with a parent/carer. We feel this is important to balance between children reading for enjoyment but also to develop their reading skills within books aimed at their reading level: both fluency and comprehension.
We believe that active encouragement of reading for pleasure is a core part of every child's education entitlement whatever their background or attainment. In order to promote reading for pleasure at Glenmere we have included the following:
All pupils are encouraged to have a reading for pleasure book as well as their book banded books
All classrooms have reading for pleasure books in reading corners/areas within the classroom
Each year group has a time class reading book where the teacher reads for pleasure
Reading for pleasure slots are planned into the school timetable
Reading Squad are employed and run the reading zone within the quiet area during lunch times.
Book Club
Termly Reading Newsletters
The use of Pupil Premium funding is used to support reading. Specific pupils are targetted to ensure that they are given regular 1:1 reading time with clear and specific questioning.
At Glenmere we use the PM Benchmarking kit to assess children's reading. It allows us to identify children's instructional or independent reading levels using fiction and non-fiction texts, identify the knowledge, skills and strategies children use when reading unseen texts, assess children's fluency when they read aloud, along with assessing children's retelling strategies and it helps to determine children's comprehension and understandings within and beyond the text.
Running records with the children to help to ensure that children are reading within their correct levelled band, but the Benchmarking kit will ensure a more accurate picture.
We also use an online eye tracking system called Lexplore – a reading assessment endorsed by the Dyslexia Association. It uses an eye tracking software that tracks the movement of the child whilst they read. This is used to identify their reading ability, areas of difficulty and where support is needed. All pupils across the school will have access to this assessment and will be completed on a termly basis or when needed.
Impact
Impact of the reading curriculum will be monitored in a variety of different way, including the use of learning walks, observations and book looks especially within the teaching of the comprehension side of the curriculum with VIPERS and Book Talk. The use of pupil voice will also be crucial in gaining an understanding of pupil perspective of reading across the school. To ensure books are pitched accurately to ensure pupils are making rapid progress, monitoring of reading folders/diaries, interventions and 1:1 are carried out. Pupils and teachers use the 'Assessment Framework' as a tool for target setting. Termly assessments are then completed to monitor and evaluate progress in relation to previous key stages.
The Glenmere Reading Handbook, provides further details on the teaching of reading, including all the systems in place.
Reading at Glenmere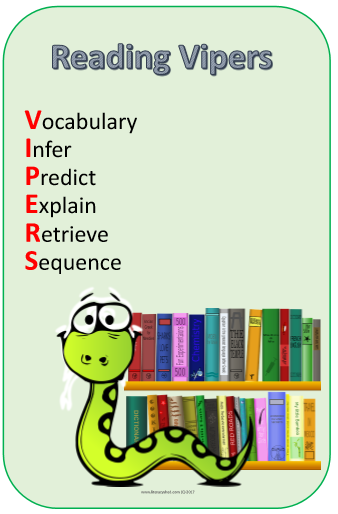 V – Vocabulary
I –Inference
P – Predict
E – Explain
R – Retrieve
S – Sequence (KS1) Summarise (KS2)
Our 'English Curriculum' provides detailed information regarding the coverage from year group to year group, including the progression of skills in writing. At Glenmere, we also see it important to ensure pupils are exposed to a variety of rich texts, therefore, within the curriculum, there is a breakdown of books covered within the different key stages.