 Glenmere gain Wellbeing Award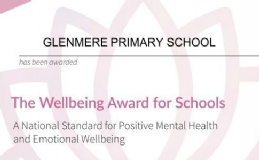 In September 2020, Glenmere was accredited the Wellbeing Award for Schools.
This award worked on involving the whole school community. It recognised the excellent curriculum and opportunities within school from lessons to workshops from external providers along with teams of people in school such as The Wellbeing Buddies. Plus the individual support for pupils and parents by way of our emotional support worker who provides weekly sessions. It also recognised the day to day support everyone across the school is provided with. We are extremely proud and thankful to the whole school community at Glenmere for contributing towards this and keeping a mentally healthy school foremost. It was a real credit to be recognised for the work completed in school because, of course, at Glenmere we Grow, Respect, Enjoy, Achieve, Together.