 More Able

At Glenmere Community Primary School all children are valued for their individual strengths, talents and special abilities, whether this is in a core curriculum subject or in any other area.
We understand that all children, including the more-able pupils, require support and challenge in their learning in order to make progress and reach their full potential. Here at Glenmere, we use the term 'more-able' to refer to pupils who demonstrate or have the potential to work at a standard well above their peers; this means they are exceeding the National Curriculum expectations for their age. This may be in one or more areas of learning.
To see the School's 'More-Able and Talented Policy', please see our policies and document tab on the website.
Provision for more-able pupils
We endeavour to meet the needs of higher ability children through careful identification and monitoring strategies and by providing access to a curriculum which will not only support the development of the whole child intellectually, socially, and emotionally, but will enable them to show aptitudes and quality of thinking.
We strongly believe that engaging teaching and learning for all is the key to securing achievement for every child. Through creative curriculum activities, more-able pupils are given a wide variety of exciting challenges and experiences, access to a broader range of texts, developing the ability to question, explain, persevere, communicate their thoughts and take risks in their learning whilst building relationships.
We support our more-able pupils by giving them opportunities for open-ended tasks, higher order thinking challenges and extension activities. In class children work in a range of ways; ability groups, mixed ability, paired work and independent work. We use a variety of teaching styles and a range of higher-level questions to stimulate critical thinking. Pupils with English as an additional language (EAL) and pupils with disabilities and or special educational needs (SEN) will be given equal access to identification.
Enrichment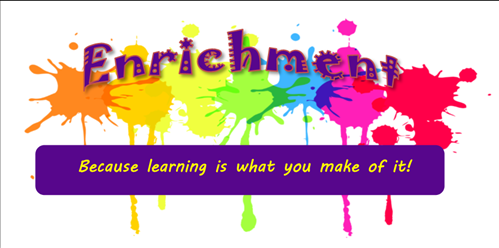 In addition to these, we also offer opportunities for children to take part in enhancement activities, such as workshops with other local schools. This helps the children to develop confidence and leadership skills. Pupils demonstrating exceptional ability will also be encouraged to take a full part in extra-curricular activities.
Provision for gifted children may well include individual programmes, the opportunity of tackling demanding tasks where initiative and design are required and at times the chance to work with older children.
Identification of more able children at Glenmere
Identification of More Able Pupils, Identification is not about labelling pupils but ensuring effective and suitable provision. By identifying the 'more able' pupil teachers can assess needs which should inform the planning of work to ensure appropriate pace, rigour, and challenge. There is no single method which will identify the 'more able' pupil, or one method which can be entirely accurate.
As such we use a variety and combination of methods:
Tests and assessments
If a child is exceeding in reception they will be tracked into year 2 as more able and then reassessed in year 2.
If a child achieved GDS in year two they will be identified as more able and tracked as more able till year 6.
Foundation Stage Profile
Teacher Assessments made from Assessments
KS1 and KS2 SATs
Teacher observation
Information from external agencies
Parental information
Management strategies
The co-ordinator's role at Glenmere includes:
ensuring that the More able progress is monitored termly;
monitoring teachers' planning incorporates the needs of all groups of children;
supporting staff in the identification of More able, Gifted and Talented children;
providing advice and support to staff on teaching and learning strategies for More able, Gifted and Talented children;
updating colleagues on best practice or new initiatives as they arise;
facilitating whole school extension and enrichment material;
recruiting help or expertise as required
liaising with other G & T co-ordinators to share information
All supporting your child letters each term will contain advice for supporting more able learners;
Termly knowledge organisers grids, will identify how more able children will be developed;
School monitoring will always look at how more able children are being extended and ensure they are not just being given more work.
Monitoring will be done to check more able children are not getting everything right all the time.
The Role of The Governors at Glenmere Primary School:
Will ensure that there is a whole school policy for addressing the needs of more able children.
Will monitor and evaluate the implementation and effectiveness of the schools policy.
Will consider the needs of more able children in school development and financial planning.
Will receive and review an update on more able provision in the spring and summer term.
The Head Teacher will:
Will identify a co-ordinator to take lead responsibility for the school's provision for more able pupils.
Will ensure that there is a policy in place.
Will monitor the implementation of the policy.
Will monitor the progress of more able pupils through regular review and discussion with the co-ordinator.
Will ensure that the governors receive regular reports on the implementation of the whole school policy. The co-ordinator for more able/gifted and talented pupils
Will evaluate and review the school's policy for the education of the more able pupils.
Will work with staff to ensure lesson plans have clear differentiation to meet the needs of the more able learners.
Will support the co-ordinator to carry out classroom observation to monitor the teaching of the more able learners.
Will carry out analysis of available data to identify progress made and future areas for development.
Will carry out an analysis of the views of the pupils and the parents/carers to evaluate the overall impact of the programme.
Will attend meetings with the other cluster schools to share good practice.
Will write and implement the targets for the yearly development plan.